Memorial Day weekend my brother Chris and I headed off on Route 66 adventure, with the foremost reason of documenting the Odell Station Car Show Memorial for Lenore Weiss. For those of you who done know Lenore, she was a strong preservationist that was involved in many early efforts saving endangered Route 66 sites. Sadly, Lenore's life was taken by cancer in 2010, at the age of 63. I can't think of a better way to memorialize Lenore, who was so dedicated to preservation along Route 66, than to have a car show benefit in her name, at one of the places she was so instrumental in saving! Organizer and friend Craig Parrish had asked me to come out to capture this very special day several months back, and I had been looking forward to the day.
Chris and I met up with Craig and his wonderful lady friend Kim at 9am, a few hours before the show was to start. Even that early folks were starting to roll in their cars. The weather looked like it could go either way, we had our fingers crossed!
Around 10am Odell, Model T and A, car guy, Jim Haley showed up with a beautiful Model T-Ford, it matched the time period of Odell Station perfectly, so we decided to park it right up front and create some portraits of Craig Parrish, the event organizer, John Weiss, 66 preservationist and husband of Lenore, and Terry Joiner, The Mayor of Odell. At the official start time of the event a string of Ford Thunderbirds rolled in ranging from several 1950's T-Birds, a 1966 and 3, 2000's retro birds. I had a lot of fun chatting with the owners and making images of these cars. The Thunderbird has always been one of my favorite Fords, next to the Mustang.
By noon, I would estimate that there were about 45-50 cars and their owners in attendance, the vibe was good and folks were enjoying themselves. Early afternoon the sun had started to poke it's way though the clouds and the weather was turning out to be perfect. Many great items were being raffled off and John, Craig and Terry all took the microphone to speak a few words about Lenore and the mission of the benefit and thank folks for their attendance. The afternoon was a blast, lots of car talk, admiration of automobiles, friends reconnecting and new friends being made. I was happy to see my roadie friend Mike Bailiff was able to make it out to the show. Mike had timed his 66 road trip to align the benefit. We chatted about Illinois Route 4 (early 66 alignment) destinations and a created a portrait of Mike by a Route 66 sign on a fence that I has spotted earlier as a good location to make a portrait.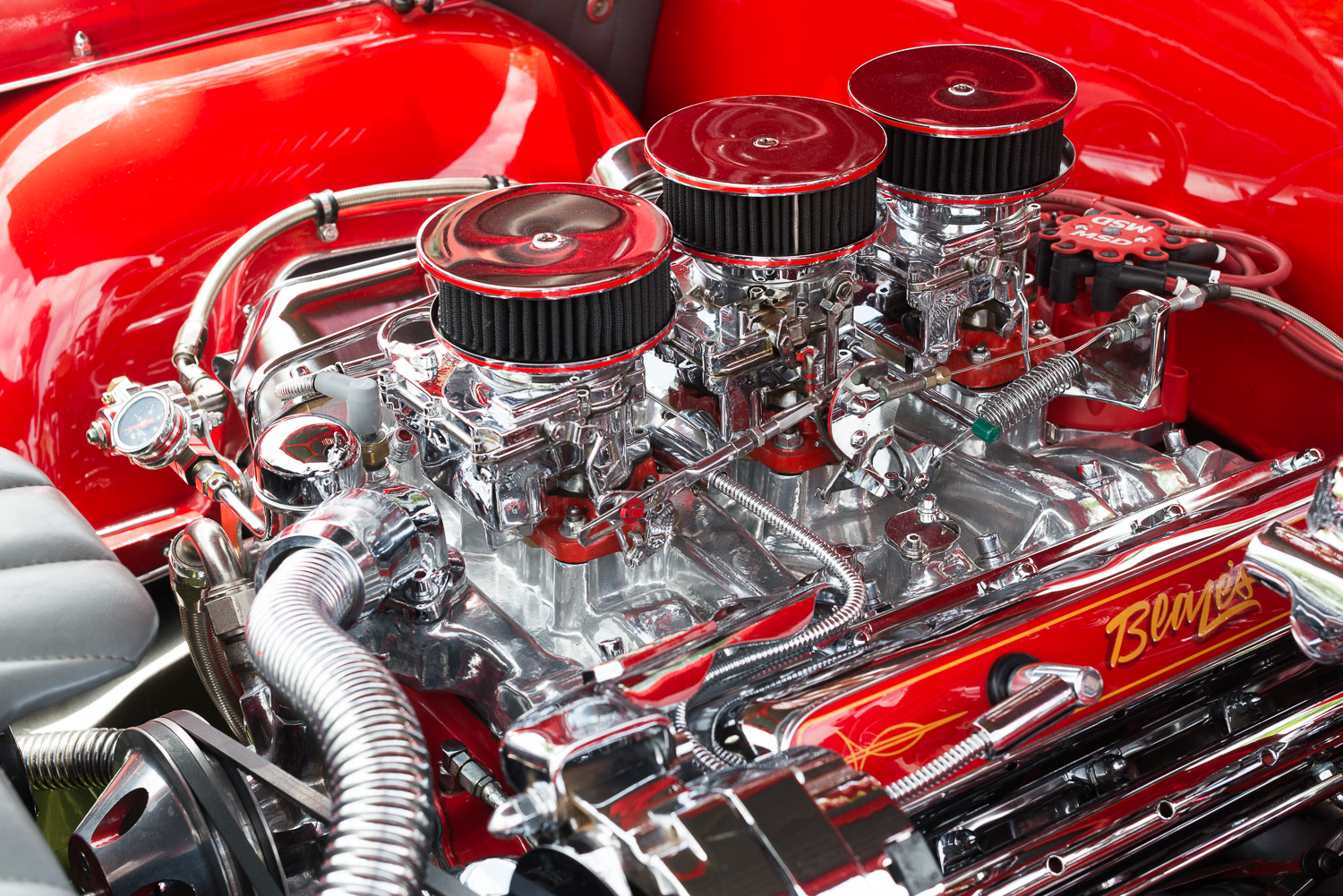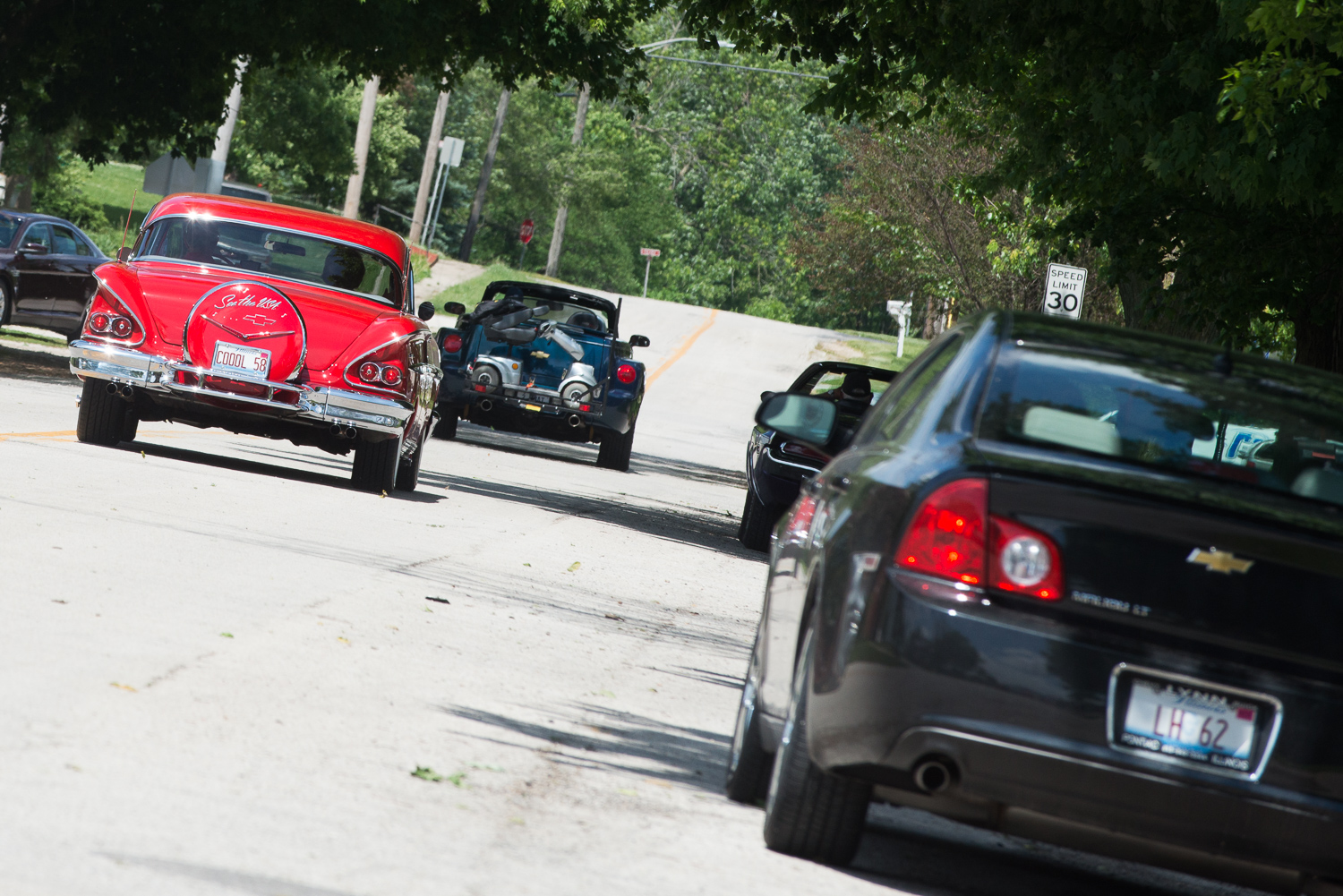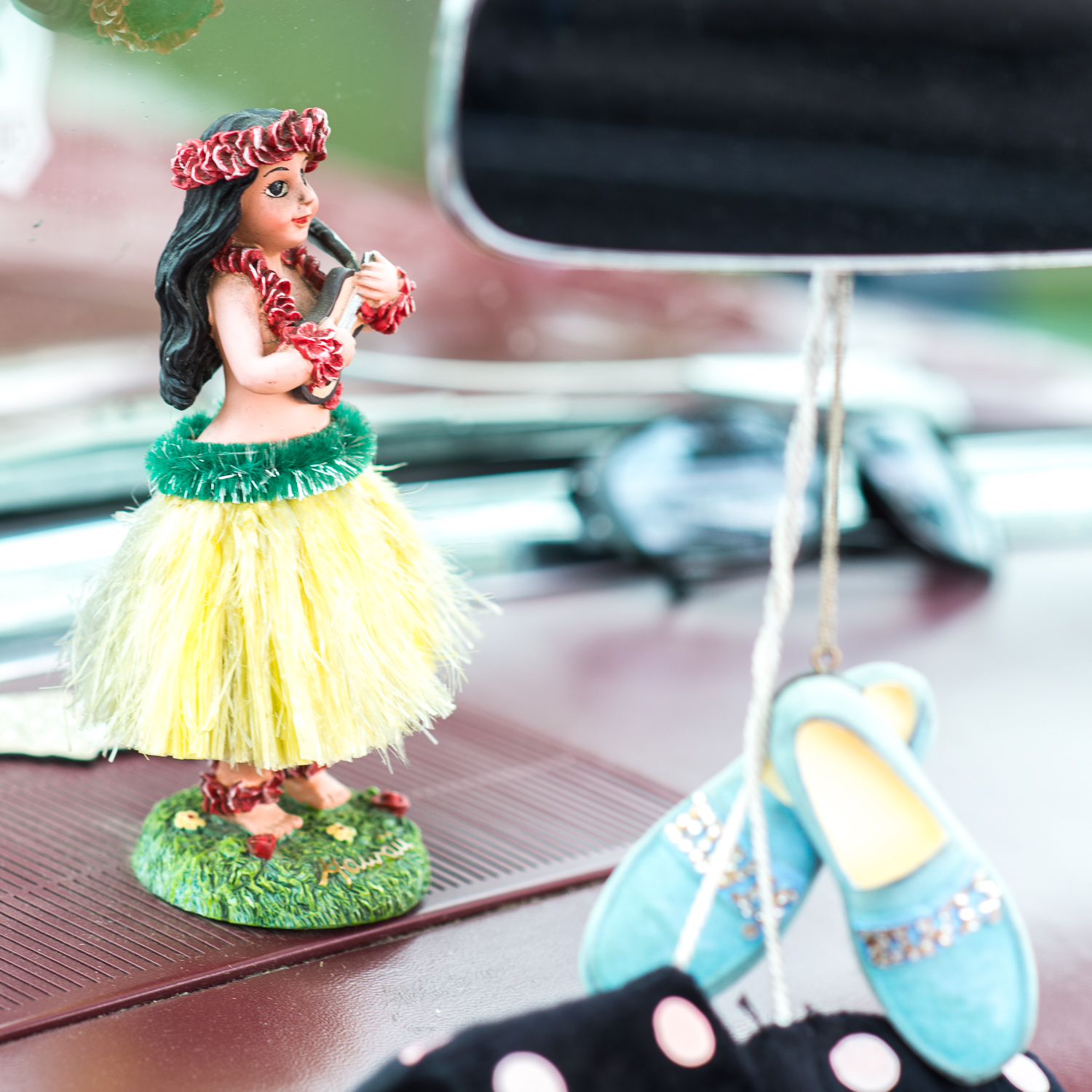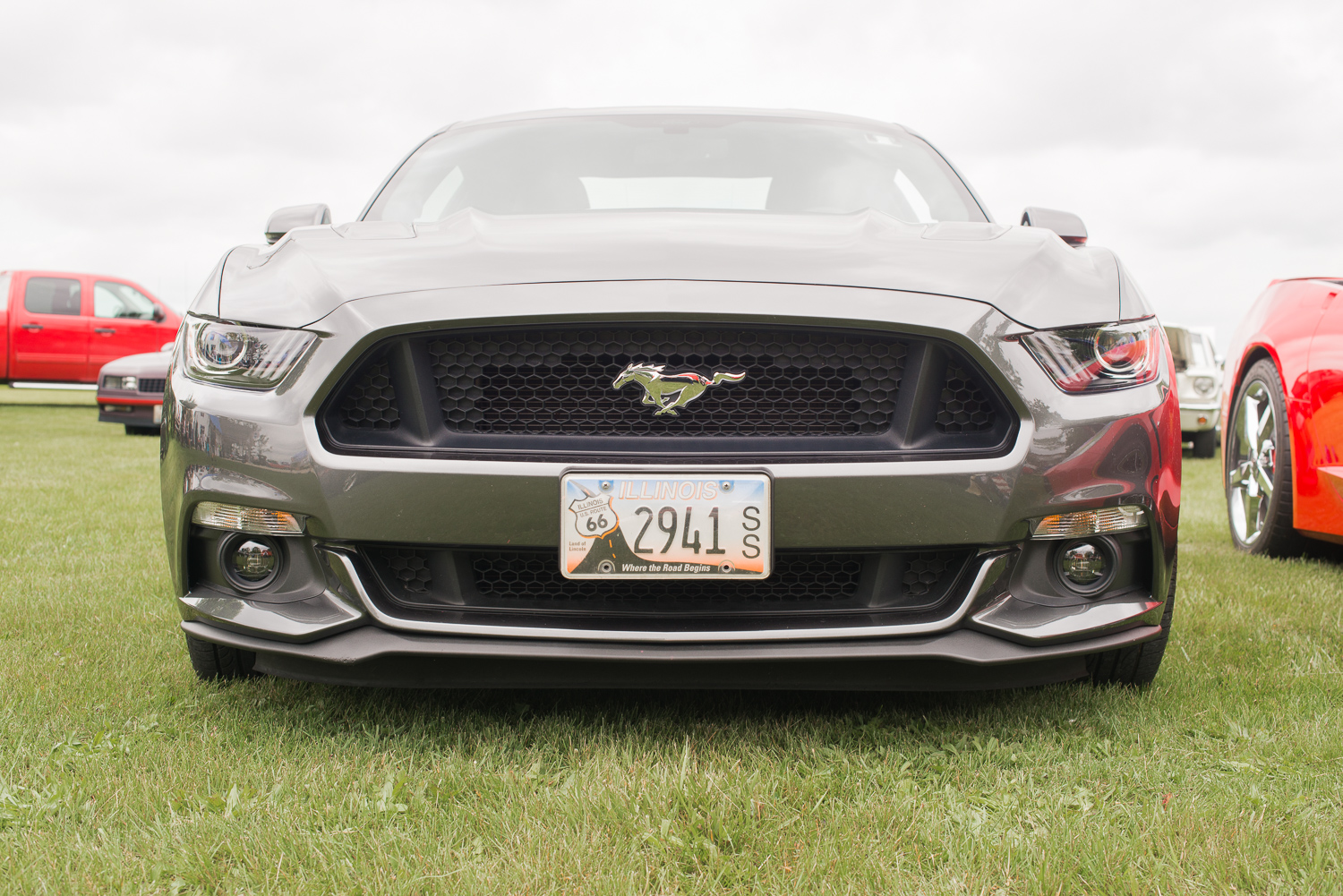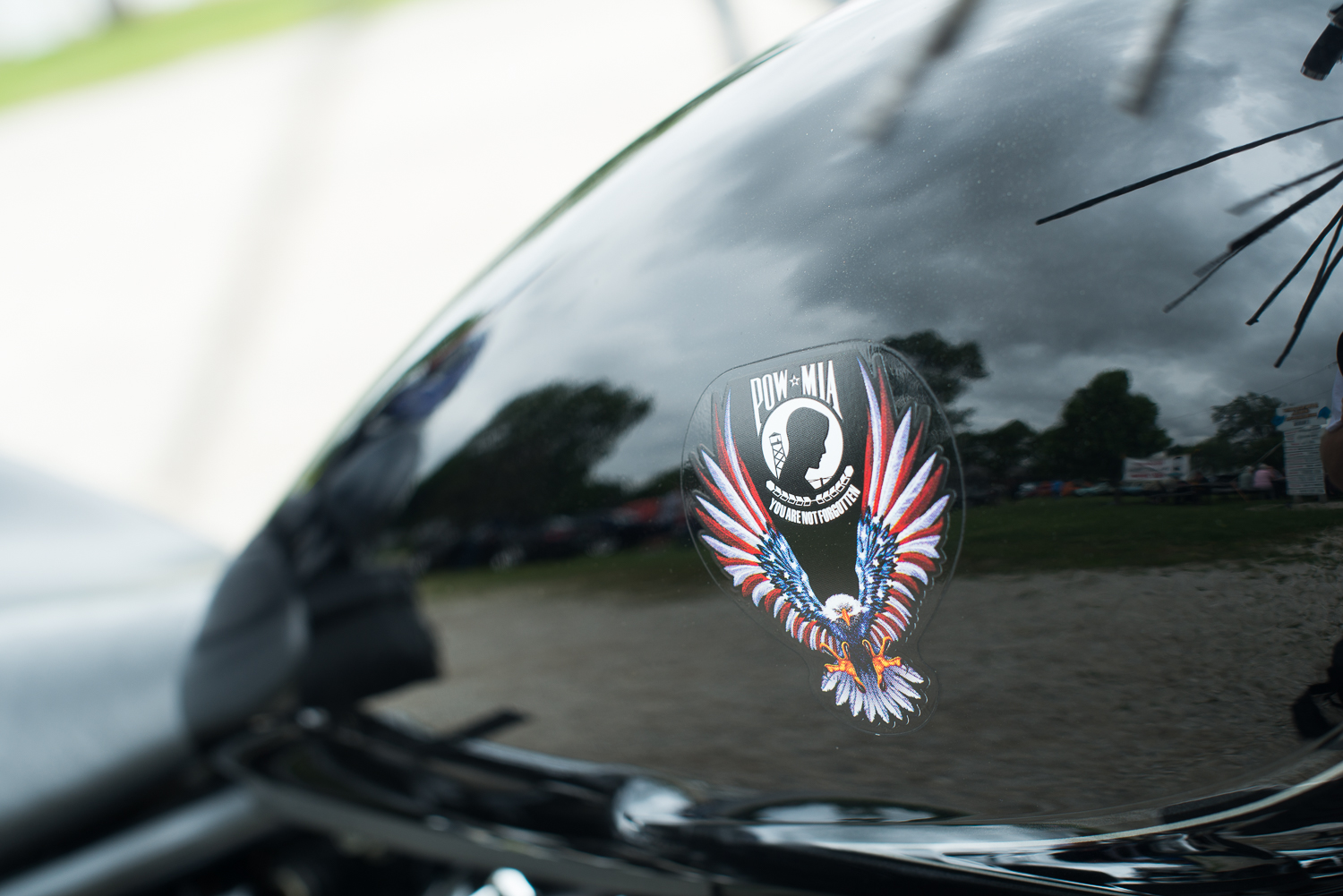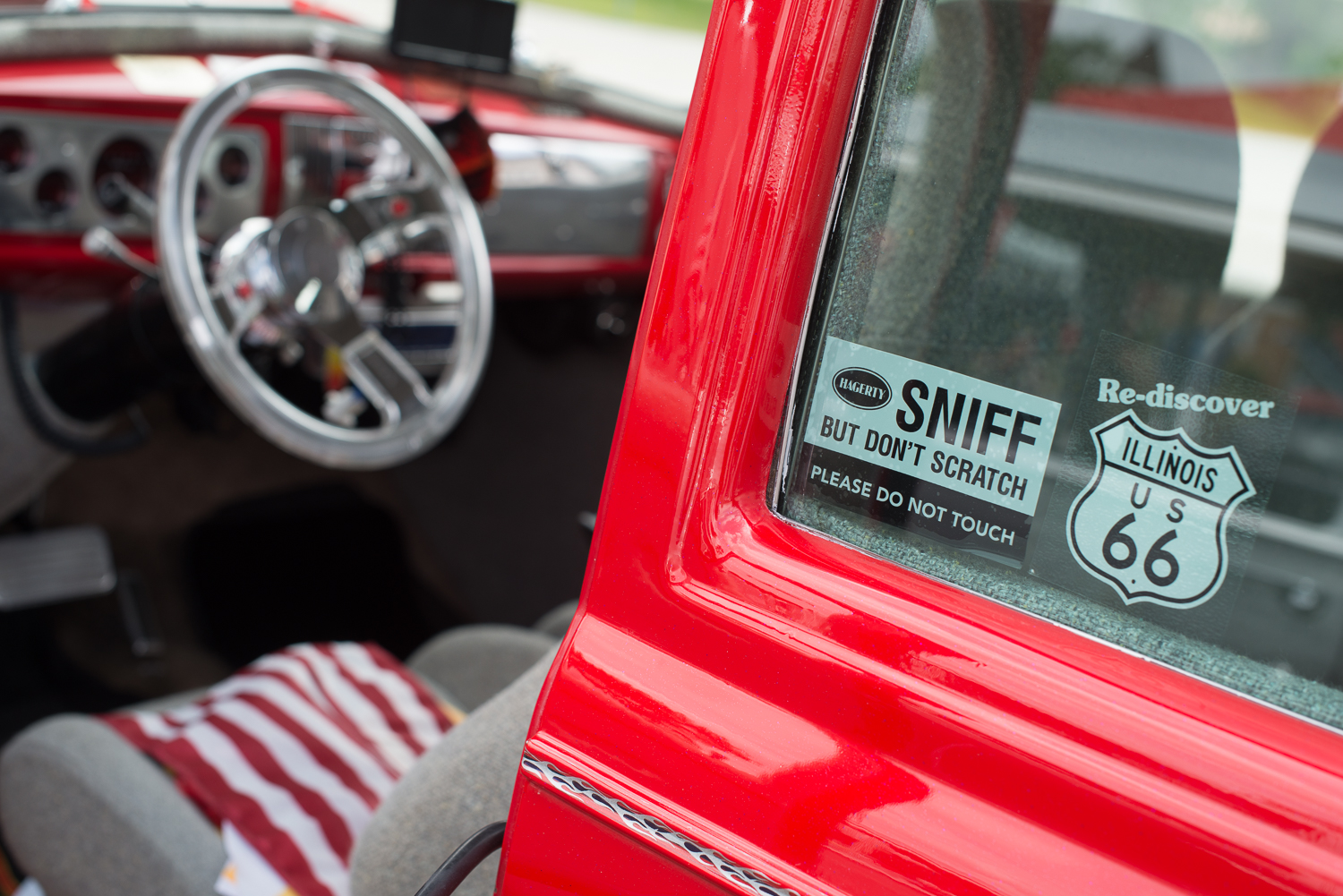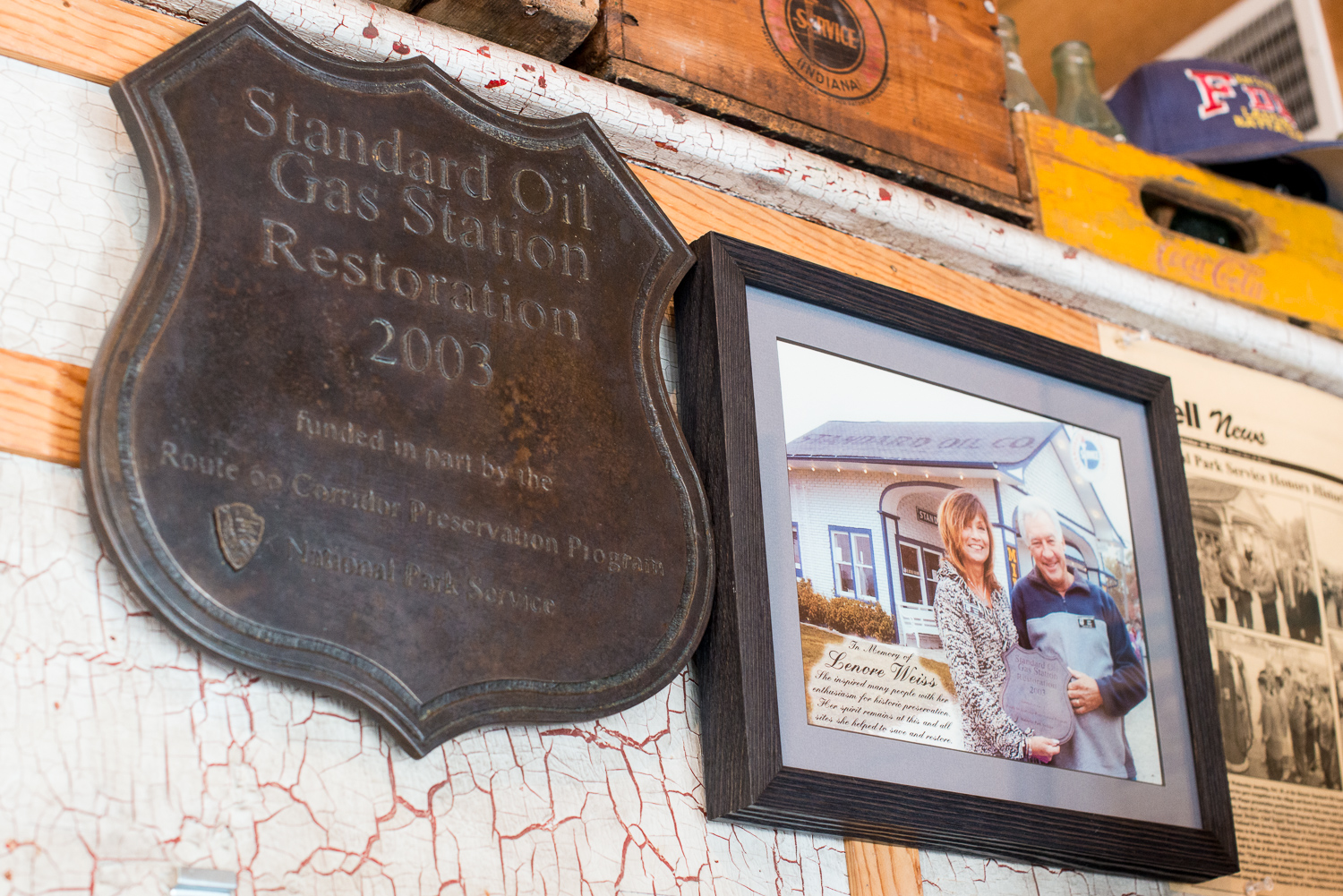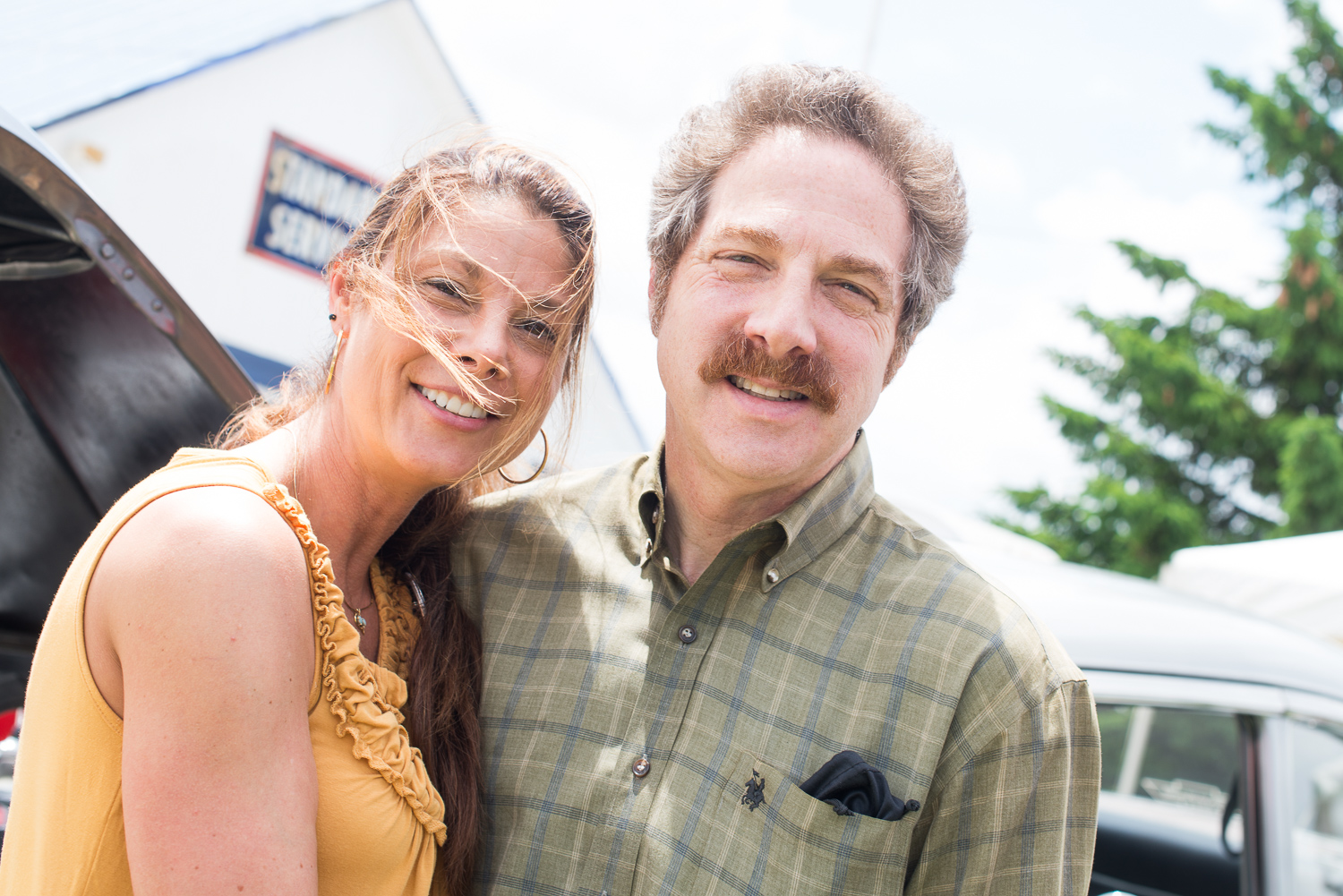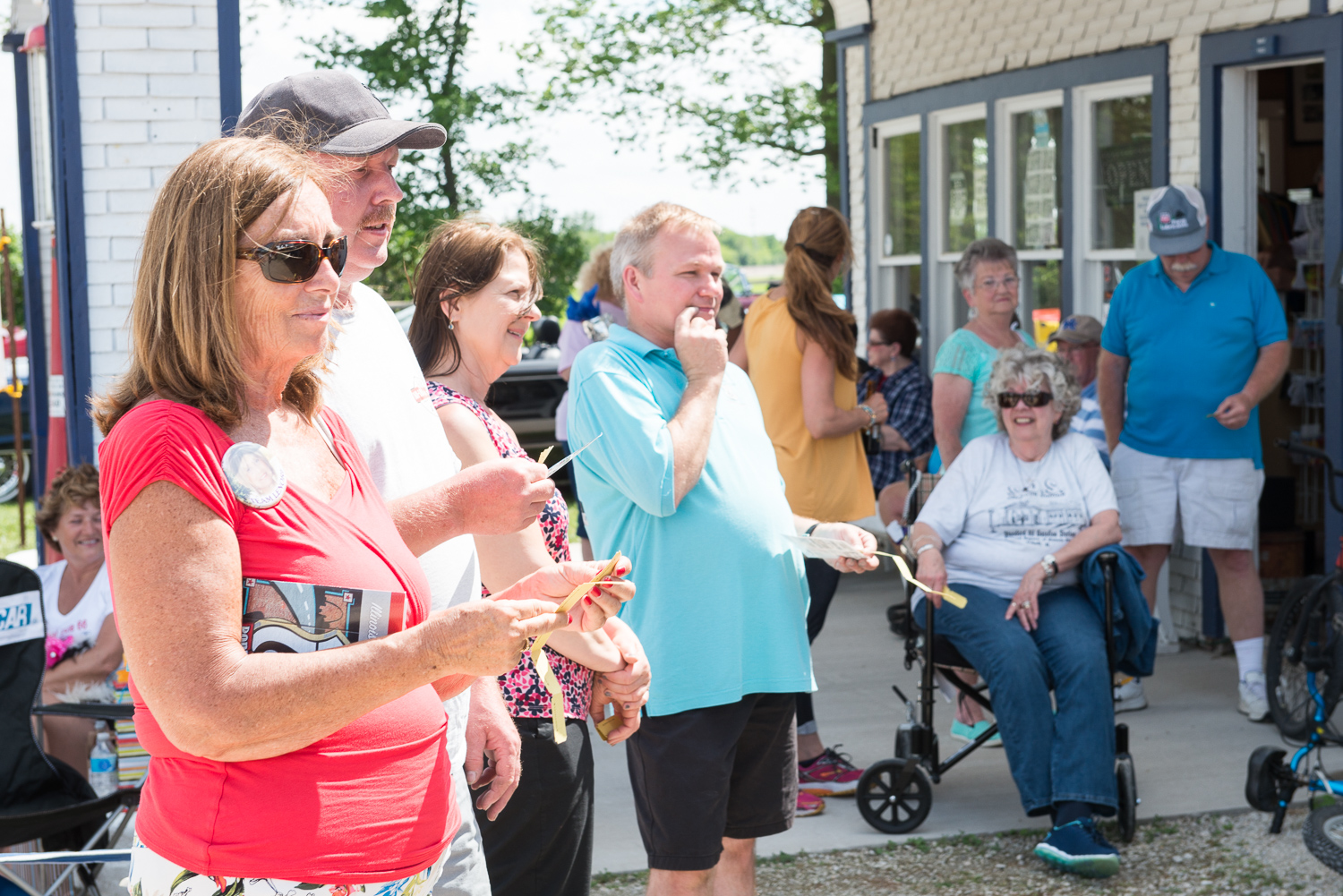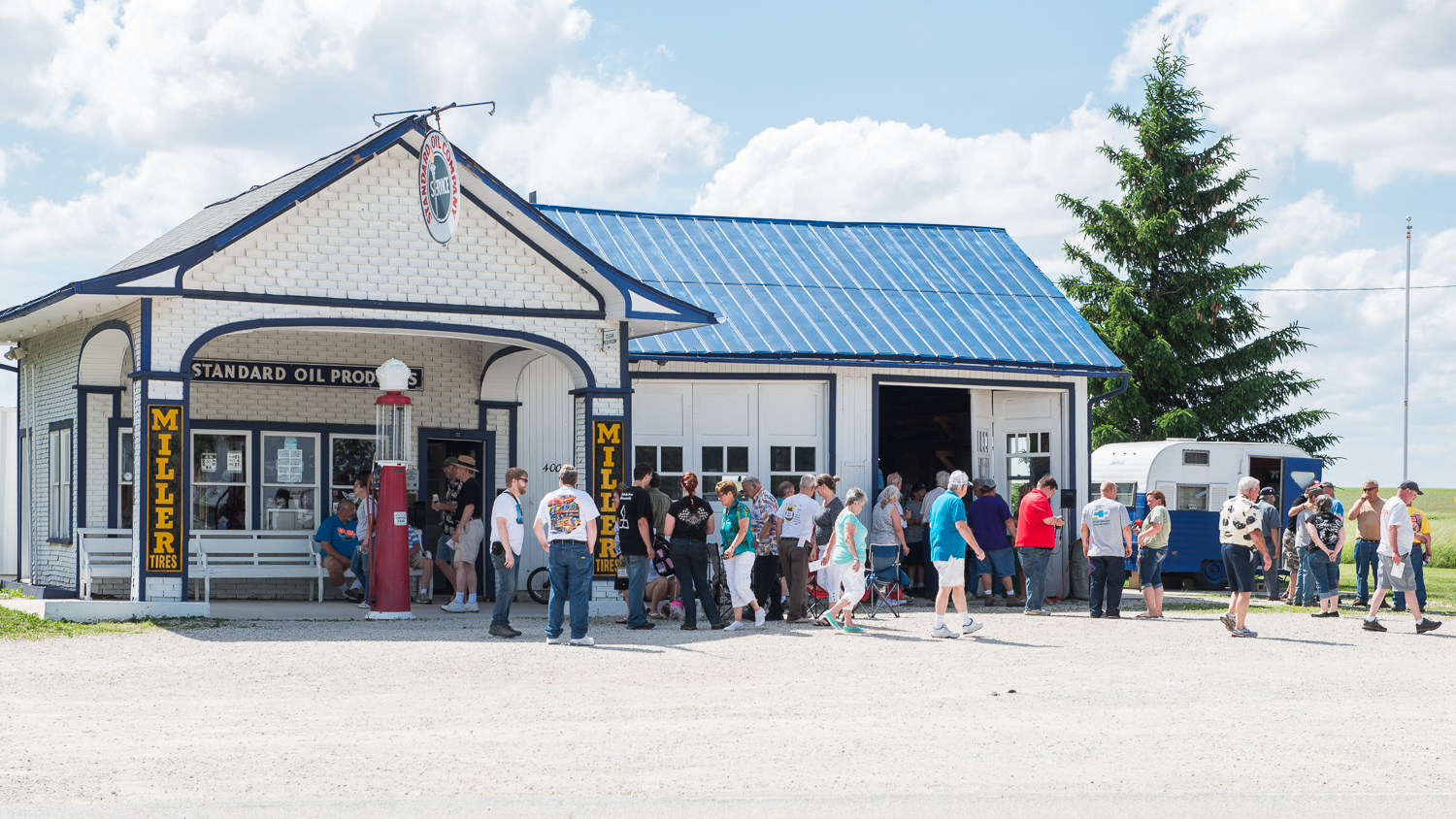 The time just seemed to fly, taking pictures and talking to folks, the event seemed to be ending as quickly as it started. I love photographing vintage cars on Route 66, so I headed out to the street to capture the departure of many of the cars. Post show, I spent a bit of time chatting with John Weiss and made a portrait of him in my new favorite Odell portrait spot. Chris and I packed up the gear said out final goodbyes and headed off to diner in Dwight at the Old Route 66 Family Restaurant. I really enjoyed this benefit and hope to return again next year.
Visit the Facebook benefit page for more info on this event! https://www.facebook.com/odellcarshow/